Customers and Sales page

The Customers and Sales page has a list of tabs on top. Each of these provide access to specific functions of selling and customer interaction. You may need many of these in your journey to excellent sales performance. To access this page, go to your View menu, then click on "CUSTOMERS".



1. Accounts. The first tab on the page is the Accounts tab. This is a list of all your customer accounts. You can search the list to quickly access accounts (important if you have many customers). Use either the quick search, or the Search Filters to effectively filter through a large list of customers. It is possible to configure this list so it shows only your customers or your region's customers. Your customers are customer accounts where you are configured as the Account Manager or a Sales Consultant.


2. Sales effort. The second tab is your key to viewing the effort exerted by your sales teams. This tab is not available to all levels of users and is mostly used by Sales Managers. Sales effort is fuelled by logging events like meetings in The Calendar, creating tasks against customers and logging Sales notes. Sales notes can be logged efficiently by Sales Consultants from the New Menu. They are used to provide feedback, notes and warnings against customer accounts. These Sales notes allow sales managers and colleagues to have access to ongoing customer interaction.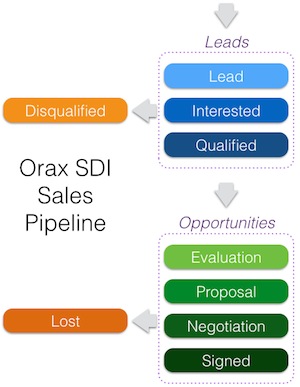 3. Sales pipeline. If you capture sales leads in Orax SDI, this is where you can analyse and manage your pipeline. Your sales leads are also available on your home page. Website leads can be generated using the built-in Call-to-action feature. In Orax SDI, leads automatically progress into opportunities as they pass certain gates. See the chart on the right for an overview. Sales Quotations may be "approved" or "declined" to indicate a conversion or a failed sale. Note that it is possible to import sales from external systems using a spreadsheet to use the Orax SDI sales reporting.


4. Quotations. Sales Quotations are listed from recent to least recent in the Quotations tab. Quotations are automatically expired when they reach the expiry period set in Financial Setup. Sales Quotations are the main tools used in Orax SDI to sell to prospective customers. Several levels of approvals and custom workflows can enhance sales to ensure an efficient process in your company.

5. Orders. Sales Orders can be tracked in this tab. Note the Inventory/Warehouse status to track the fulfilment of an order.

6. Invoices. Invoices and Credits are available in the Invoices tab. These are financial documents that feed into the General Ledger and show up on a Customer statement.

7. Billing. Orax SDI has a batch billing module that allows for automated billing runs based on billing items configured per customer. This is extremely valuable for large customer billing runs based on usage or subscriptions.

8. Campaigns. Use the campaign feature to broadcast trusted customer communication on a regular or once-off bases.

9. Surveys. Create surveys to assess the satisfaction of your customer base.

NOTE: Customer accounts have General Ledger accounts and transactions agains them in the Accounting Module. For best management of Accounts Receivables, use the Customer tab in the Accounting module to asses ageing, and credit limits.
Up
Previous
Next