Sales Quotations
As a Sales Consultant, you have to master the creation and management of Sales Quotation is Orax SDI. Once you get the hang of it, creating and managing Sales Quotations and Other financial documents in Orax SDI is as simple and efficient as it can be. Before you start creating Quotations, you'll need 2 entities in your system. Firstly, you need 1 or more Customer Accounts (to sale against), and secondly you'll need Inventory (Products or Services that you sell). Sales Quotations allow you to quote Items or inventory (Services and Products) for a specific customer (Customer Account).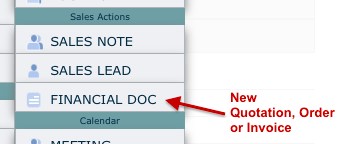 To create a quotation, use the "New" menu, and choose "Financial Doc". In order to create quotations, you'll need access to both Customer Accounts and Financial Documents. If you do not have these privileges, you will not see the applicable menu options. To address this, speak to your local administrator or manager.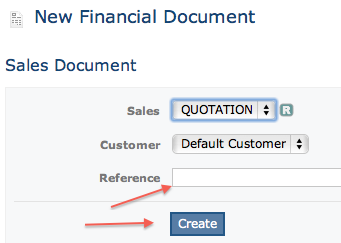 When creating Financial documents, you are presented with a form that allows the creation of several documents, eg. Sales Quotation, Sales Order, etc. Select "Sales Quotation" on the form. Now select a Customer account, enter a reference, then click Create to generate a Quotation with a unique number in the system. The "Reference" field is used as a descriptive title for your quotation (eg. "Consulting Services", or "Software implementation", or "PO#123", or "Project XX1").

On the new quotation, you may change the date and Reference (1). The customer (2), notes and attachments (3) and naturally add items (4) to sell.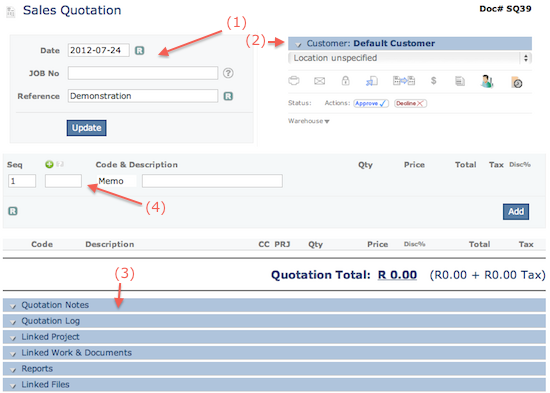 By default, you may add a Memo (text comment) to your quotation, but adding items, require that you "look them up" by typing a description, item code or barcode in the box on the left of "Memo". Typing something will display a list of matches. You may use the keyboard or mouse to select an item.

Once selected, the item will be loaded into the new item form with additional fields for Quantity, Price, etc.




Change the necessary detail like quantity, description, discount, etc and click Add or hit Enter on the keyboard. Your item is added to the Quotation and the total is updated. You may add more items or edit items by clicking on the Edit link.




The following are links to:

1. Print (view the printed format) the quotation.
2. Email or Fax the quotation.
3. Lock it to prevent further changes.
4. Import items from another Quotation/Order/Invoice.
5. Duplicate or process it.
6. Perform a Cash receipt.
7. Go back to Customer Accounts.
8. Go to this Customer account.
9. Create a follow-up reminder.
10. Approve, decline or cancel the quotation.





NOTE: Correctly approving, declining and cancelling your Sales Quotations are important because these statuses will affect your sales performance statistics and the sales leaderboard. A Cancelled Quotation is something that is not applicable or was incorrect. Quotations cannot be deleted, only cancelled. The difference between declined and approved quotations will present your Sales Conversion Rate.

If activated in your system, your may be required to request approval for all Sales Quotations (called Internal Approvals) or request approval for prices (called Minimum Price Approvals). This is configured in Financial Setup.

Up
Previous
Next