Project costing and billing
When a new project needs to undergo costing or quoting, step number one is to create your plan and link all resource (including time) and costs. Once the project plan is complete, go to the Resources tab to get a breakdown of the Resources allocated to this project as well as the time allocated for each resource.





The Resources tab shows 3 different types of information.

1. Any conflicts or over utilisation of a resource will be indicated in the utilisation per resource chart. This is of course an important aspect to consider before committing to a project.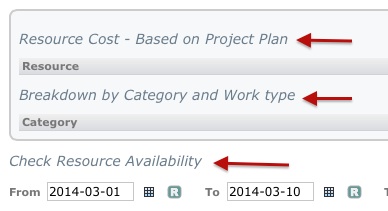 2. Resource time costing is shown in 2 separate breakdowns. The first set allows you to view the hours allocated for each resource with an option to change their billing rates. It is important to set the default billing and input rates for each resource on the project in the HR & Payroll module. This will allow for better reporting. The second set shows the resource allocations by category. This can be used when creating a quotation based on the type of work billed for (rather than the actual resource for the job). In order to see accurate category breakdowns, you need to set the category of each task resource.

3. Lastly, you can use the Resource Availably filter to lookup the utilisation / capacity of resources. This is useful once again to ensure that you do not double book resources. Note that this feature checks resource time on a corporate level (across projects and other responsibilities).
Up
Previous
Next