Group Calendar
Groups allow the members to communicate more effectively by adding comments to a Group and by sharing a Group Calendar.

A Group Calendar is available for each Group in Orax. The Group Calendar shows events (meetings, standby, leave, etc.) for all members of the Group. This is useful when it is necessary to maintain a shared schedule like standby or leave.

You can find your group's Calendar in the Group forum just under the tabs.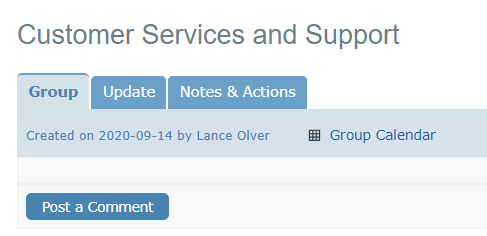 The owner of a Group can create events on behalf of other members of the group. The owner is thus able to maintain the Group schedule.
Groups are especially handy to distribute regular updates or messages to a distribution list. The members of the Group do not have to be Orax SDI users, they may include external parties. Just ensure that Group communication is not a private matter if you subscribe to external email addresses. To add users to a Group, subscribe to them on the Comments tab of the Group.
Up
Previous