Navigating OraxSDI
For your convenience we recommend you bookmark Orax on your web browser of choice so that you can access it easily in the future.
Homepage overview
Duration: 01:19 minutes Streaming size: 2.9MB

Navigating Orax is really easy. It works differently from your browser navigation and you should not confuse your browser navigation bar with the Orax navigation bar.







Please use the top menu bar to navigate around Orax.





The backward and forward arrows '<' '>' will take you to a previously visited page or forward to a page you have just been on.



The circular arrow will refresh the page you are on.



The magnifying glass is your search area which will allow you to search for anything on the Orax system.



The house icon will return you to your Home screen, which is your main screen in Orax.



The menu icon will open the menu, where you will find the modules that you will be working on, more or fewer options will be available to you depending on your privileges assigned to you or the team you are assigned to. This will be discussed later.



Additionally, through out the system in various places you will find this dot menu button, which allows you to access various other sub menus.



When clicking on these two buttons you will be able to add or create new items in the system.



Clicking on the settings icon, which will be your avatar if you uploaded one in the personal settings, otherwise it will display a cogwheel. This menu selection takes you to your account settings where you can make various changes to your account and access the Self-help menu.



By clicking on edit, in the lighter grey bar under the settings icon, you can customise your home screen so that links to areas of Orax you use most often, like Documents or Pipeline can be put on your homepage as a shortcut. We will cover this in greater detail in Setting Up Your Profile and Changing Your Password. Under Self Help and Management
If you are using the
Mobile App
, you will notice the navigation bar will be at the bottom of your screen and you can use this bar to navigate in much the same way. We will discuss how to set up Orax on your various devices in the next chapter.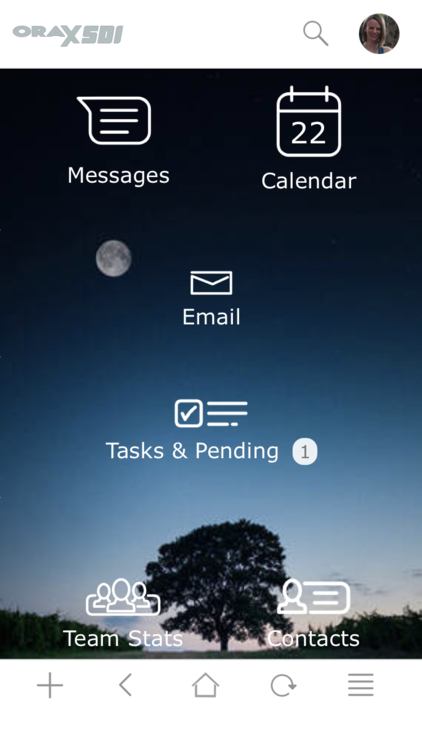 Up
Previous
Next