Service Ratings
CSI (Customer Satisfaction Index) ratings are built right into the Orax SDI Service Desk. As you resolve Service Calls, rating requests are sent to the customer (owner of the Service Call) to enable automated ratings. These CSI ratings are a score from 1 to 5 (5 being excellent and 1 being poor). This allows for CSI scoring on a Call, Technician, Customer and global basis.





---

All Orax SDI Service Calls and Projects may be rated by the "owner" (the customer). Ratings are used to measure service levels and are displayed on the Service Dashboard.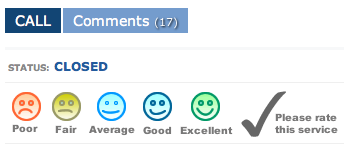 When a customer logs into her Portal and views a closed Service CALL, she will be able to rate the service for that CALL (see above image).

An automated rating request will also be included in the email notification going out to the CALL owner when a CALL is resolved. This will only happen if the system is configure to send individual emails (rather than batches) - see Settings for more detail.

When a customer clicks on a rating icon in an email, she will be directed to a web page with an acknowledgement like the one below.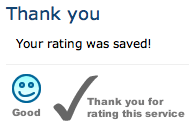 Rating statuses are shown at the bottom of closed Calls in the SDI internal Portal.



Up
Previous
Next